The global mobile app market size is projected to reach $407 billion by 2026 [1]. When creating a digital marketing strategy many businesses overlook the potential of mobile apps. An app can act as a platform for potential customers to interact with your business. If your clients have a dedicated application for your business installed on their mobile devices, they are more likely to become recurring customers.
Mobile applications also help build stronger brand recall and loyalty. When selecting a digital marketing company in Trinidad you should look for one that also provides mobile app design and development services. This will allow you to capitalize on the rapidly growing mobile app space as part of your overall marketing strategy. Read more on mobile app strategies to grow a business.
When it comes to business mobile applications, design matters. Recent research by Forrester suggests that a well-designed UX (user experience) can increase conversion rates by up to 400% [2].
What is UX design?
UX stands for user experience. User experience is a term used to describe how a user interacts and experiences an app. UX design is the process that designers use to provide meaningful and quality experiences to users. It takes into consideration what happens before, during, and after a user interaction. Good UX makes it easy for app users to understand how to use a product. UX design is not limited to mobile apps but can be used for any product or service where there is interaction with the client.
Below are four examples of well-designed business mobile applications for inspiration:
1. Trello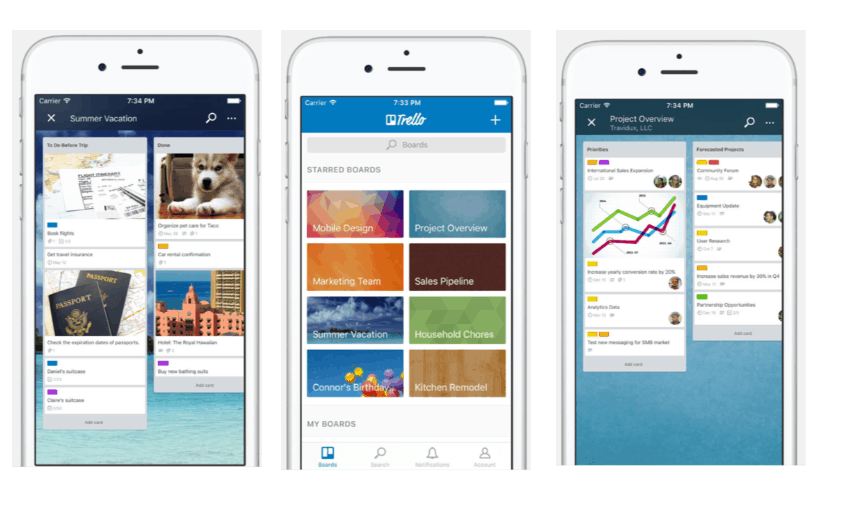 Trello is a collaboration tool that can be used to keep track of projects and tasks. It provides users with a bird's-eye view of what is being worked on in an organization and what the current status of certain tasks is. The Trello mobile app is an excellent example of easy navigation. It is easy for users to navigate the app, create new boards, move boards around and keep track of their projects. The app allows users to drag and drop Trello cars. The app makes it possible for people to manage their tasks on the go without the need to open a desktop or laptop.
Design a mobile app that is not only easy to operate but also offers unmatched convenience to users.
2. Coursera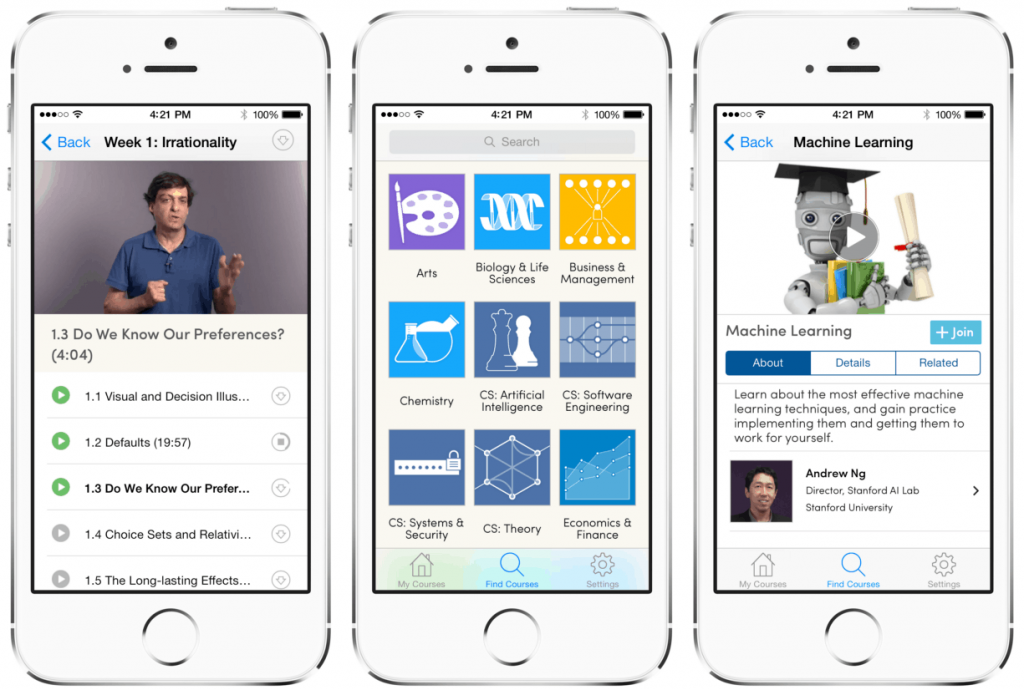 Coursera is an app that allows users to sign up for courses on a variety of topics. It covers a wide variety of topics. The app is well-designed and presents a lot of information in an organized manner, without overwhelming users. The use of card layouts is effective and allows for easy navigation.
Design a mobile app that provides information in an easy to consume format.
3. Kitchen Stories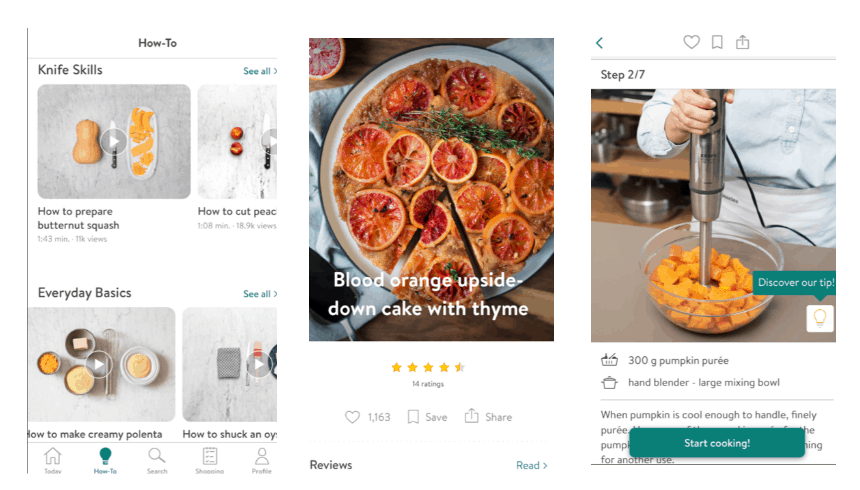 Kitchen Stories is a cooking app that has a social element. Users can share recipes with the app community. The app is filled with beautiful pictures of food which gives it a premium feel. There is a very easy-to-follow streamlined uploading process that makes it simple for users to upload pictures of each step of their recipe. Through good UX design, the app has made it easy for people to share content. This encourages engagement and use of the platform.
Design a mobile app that effectively powers an online community.
Design a mobile app with simple sharing options to encourage user interaction and engagement.
4 Hopper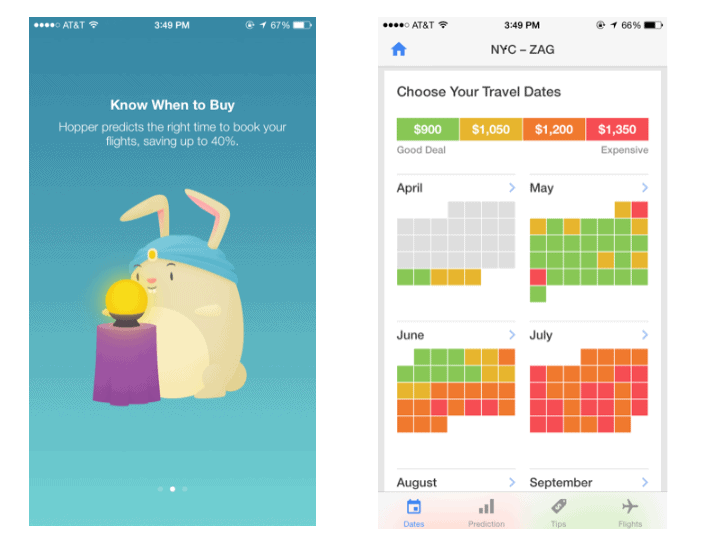 Hopper is a travel app that helps users find the best flights. The app has a bunny mascot that users can customize for their accounts. Colour coding is used to highlight different price brackets. Based on account information and the flights selected, Hopper gives users hyper-personalized travel tips and deals.
Design a mobile app that makes finding relevant information easy and quick for users.
UX comes first in the design process. Once the user flow, journeys and interactions are finalized, mobile app designers can start working on the user interface (UI) of an app. The flow of a good UX design is intuitive. This helps users figure out what they need to do on the app intuitively making app interactions comfortable and helpful.
WebFX is a digital marketing service provider in Trinidad that also excels in mobile application design and development for businesses in the Caribbean and South American countries. Being a digital marketing and adverting company in the Caribbean, we have an in-depth understanding of the digital landscape and customer behaviour pattern in the region. This allows the WebFX mobile app design team to make logical design choices for exceptional UX and UI.
Get in touch with the experts at WebFX for mobile application design and development services for your business.
Sources:
1. Nov 2019, "Mobile Application Market Statistics – 2026", Allied Market Research, [available online] available from: https://www.alliedmarketresearch.com/mobile-application-market [accessed Jul 2021]
2. n.d., M. Phillips, "Know Your User – UX Statistics and Insights", Toptal, [available online] available from: https://www.toptal.com/designers/ux/ux-statistics-insights-infographic [accessed Jul 2021]