Google's search results have seen many changes and upgrades since its inception. Every update is focused on making it easier for users to find the most relevant information they are seeking as quickly as possible. This has led to new search result trends that local businesses can leverage through platforms like Google My Business listings.
Search result trends to take advantage of using Google My Business:
1. First-page clicks:
A good user experience on Google's search engine means locating the right information on the first page without the need to browse through multiple pages of the search result. Google has undergone many algorithmic updates to ensure the most relevant results are shown on its first page. The goal is to encourage first-page click behaviour among its users.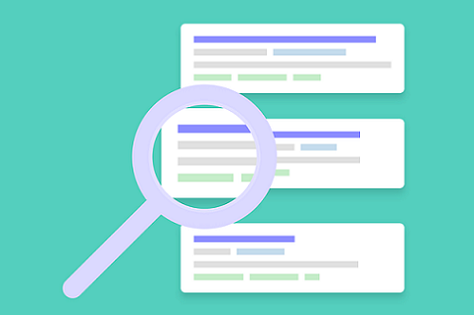 Some search queries are related to a specific location or they indicate that the user is looking for a business close to their current location. For example, queries like 'restaurants near me' or 'book dentist appointment' indicate that the user wants to find a service provider close by. Google has reserved a separate section to cater to such local searches. This section only includes local results and appears on the first page before both organic and paid lists, giving local search results a much higher visibility.
By creating a listing on Google My Business, your business can find a spot on this prime location on Google SERPs. A place in Google's local result section assures:
Top spot on SERPs
Business info (such as contact details) displayed on SERPs
Physical location pinned on Google Maps
With the days of keyword stuffing to rank on the first page of SERPS long gone, and SEO techniques taking months of continuous effort before a website can claim top organic placements on Google's first page, Google My Business listing acts as a potent digital marketing strategy to lock your spot on Google's top results faster with better visibility and higher probability of relevant visits.
2. Visually distinct search results:
Have you noticed that Google's search result page is no longer a simple list of 10 websites? To facilitate quick access to the right information, Google's search results have gradually developed into a visually distinct display with local business maps, lists, videos, and answer box. Google My Business listing enables a local business to become a part of this visual display through Google Maps.
Additionally, the listing also allows local businesses to add business images, reviews and ratings, business hours and phone number. These trust elements aid local businesses prove their credibility to online users and help them with their decision to choose your business over your competition.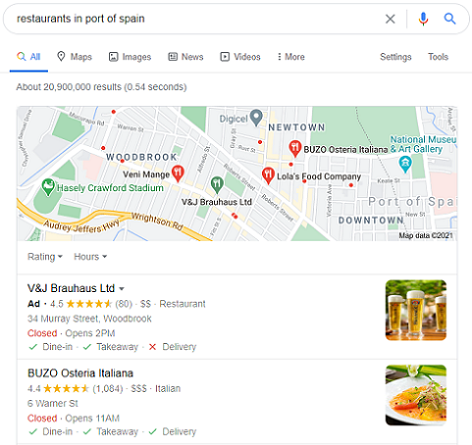 Optimizing Google My Business Listing
An optimized business listing helps foster trust for an organization among users and can help the business get higher local rankings than its competitors. Optimizing your business listing on Google My Business will help you gain authority and stay ahead of the competition in your location. Follow the checklist below to optimize your business profile on Google for best results-
Claim your listing
Complete you profile by adding all the requested details for all the sections
Be very thorough when adding contact details
Add business products and services
Regularly add business images
Collect business reviews and ratings from existing customers
Respond to queries/feedback
Add correct primary and secondary categories
Add text messaging
A combination of Google My Business optimization and local SEO can help businesses achieve sustainable rankings for multiple keywords. Learn more about the Benefits of implementing Local SEO to leverage Digital Marketing
Local businesses in the Caribbean nations of Trinidad, Antigua, Barbados, St. Lucia, Grenada, and St. Vincent and the Grenadines can easily get assistance in implementing local business methodologies by contacting the experts at WebFX. With years of experience working with clients in the Caribbean and in-depth industry insights, WebFX is equipped with the right skillset to help Caribbean businesses successfully create local authority online.
Google's ultimate goal is to enhance users' experience by helping them find the best information from their search results that serves their needs and requirements. Through Google My Business, businesses find a means to provide trusted information and details that will ultimately connect them with thousands of consumers online who are actively searching for their products and services on Google's search engine.